ASAE's Great Ideas Conference
March 17, 2019

—

March 19, 2019

$999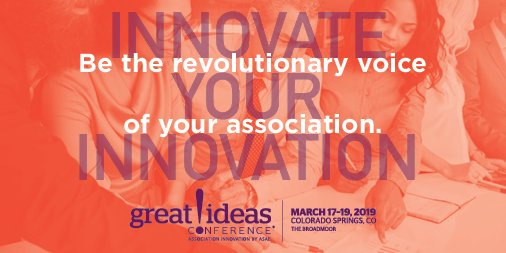 ASAE's Great Ideas Conference is a flagship innovation conference for association professionals to gather from around the globe to connect, learn, and collaborate.
Designed to advance new ideas by working together in a retreat-like setting, the Great Ideas Conference features a diverse range of learning content such as Keynotes, Sessions, Leadership Intensives, Learning Circles and Executive Leadership Workshops, covering topics that will build core competencies for achieving innovation. You'll get exposure to thought leaders from inside and outside the association community, surface new concepts, and leave inspired.
ASAE connects great ideas and great people. We represent more than 42,000 association executives and industry partners representing 7,300 organizations. Our members manage leading trade associations, individual membership societies and voluntary organizations across the United States and in nearly 50 countries around the world.
With support of the ASAE Foundation, a separate nonprofit entity, ASAE is the premier source of learning, knowledge and future-oriented research for the association and nonprofit profession, and provides resources, education, ideas and advocacy to enhance the power and performance of the association and nonprofit community.
We believe associations have the power to transform society for the better. Our passion is to help association professionals achieve previously unimaginable levels of performance. We do this by nurturing a community of really smart, creative, and interesting people—our members. In short, we are the Center for Association Leadership.
Related Events